Cambium Networks cnReach N500-450MHz Radio

For outdoor critical infrastructure operations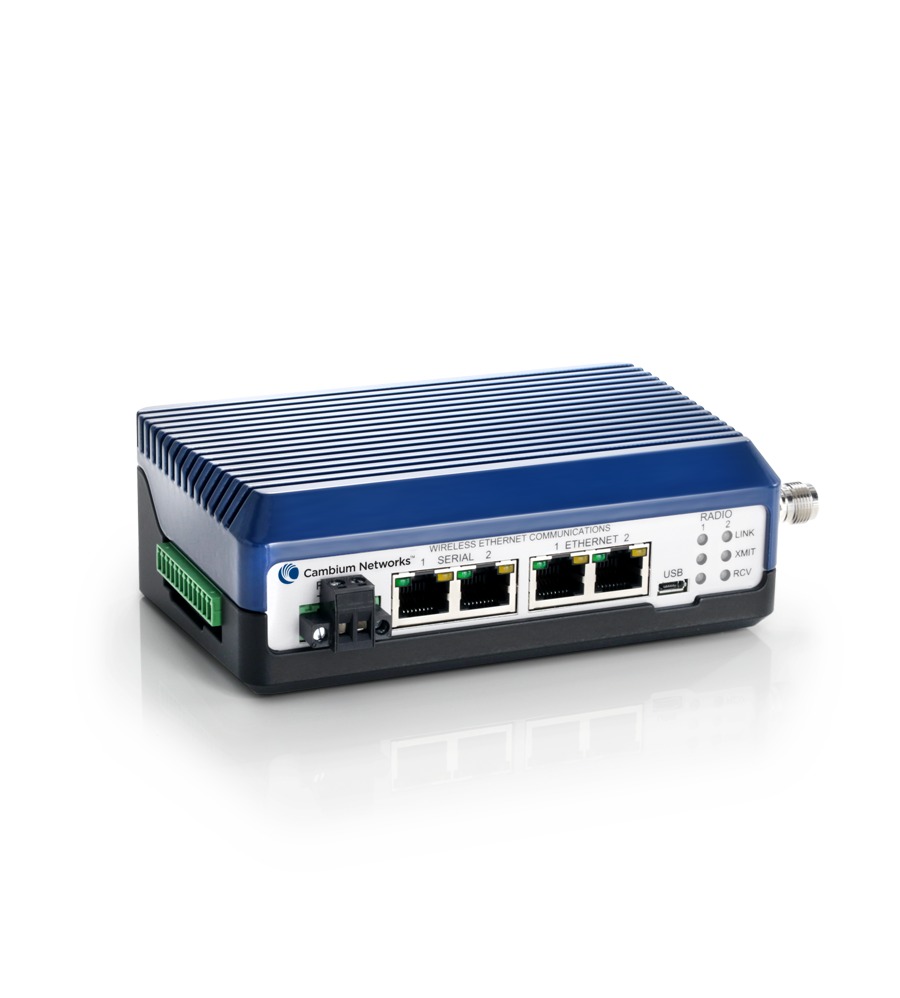 Cambium Networks Products
cnReach N500 Radios
N500 450 MHz Single
#NB-N500410B
Our Price: $1,495.00
N500 450 MHz Single with IO
#NB-N500411B
Our Price: $1,595.00
N500 450 MHz Dual
#NB-N500420B
Our Price: $2,095.00
N500 450 MHz Dual with IO
#NB-N500421B
Our Price: $2,195.00
Click here to jump to more pricing!
Overview:
For outdoor critical infrastructure operations, cnReach transports process monitoring and control data from the remote sensor back to the operations center supporting real-time automated decision making and on-going analytics. Covering large geographic areas, hard to reach terrain and challenging spectrum environments, cnReach delivers reliable, secure connectivity to the petrochemical, electric utility, water/wastewater/stormwater and transportation industries. cnReach eases the migration to modern networks by combining legacy serial and analog/digital I/O with TCP/IP and Ethernet connectivity.
Fully integrated into a 'single pane-of-glass' management platform (cnMaestro™) cnReach helps bridge the IT/OT sides of complex organizations. Combining cnReach's licensed and unlicensed narrow-band radios with Cambium Networks' broadband technologies, industrial organizations are delivering end-to-end Industrial Internet of Things solutions today.
Licensed 450 MHz (406-430 and 450-470 MHz) (cnReach is also in an ETSI RED Version)
Secure communications with AES 128/256-bit encryption and password authentication
Highly reliable communications with access point synchronization and adaptive modulation
Up to 8W transmit (39 dBm) in FCC
Single and dual radio configurations for advanced back-to-back relay topologies.
Point-to-point, Point-to-multipoint and Relay configurations in same hardware
Extensive I/O capabilities easing the transition from serial to all-IP networks with multiple serial ports, Ethernet ports and analog/digital I/O built-in.
Sophisticated network planning with LINKPlanner, a no-charge planning tool enabling network designers to predict both capacity and availability of networks crossing all of Cambium's technologies.
Supported by cnMaestro software for monitoring the status of entire networks carrying traffic across sensors
Specifications:
RADIO PERFORMANCE
Frequency Range
406-430 MHz and 450-470 MHz
Output Power
50 mW to 8W (10 dBm to 39 dBm) for FCC
Step Size
10 mW
Modulations
MSK / QPSK / 8PSK / 16QAM / 32QAM
Capacity
9.6 kbps to 56.7 kbps RF data rate; up to 30 kbps UDP throughput in 12.5 kHz channels
Channel Bandwidths
12.5 kHz (25 / 50 / 100 kHz available regulations permitting)
Range
Up to 70 miles
Receive Sensitivity

12.5 kHZ CHANNEL - FCC

Rx Sensitivity (dBm)

Capacity (kbps)

MSK

-116

9.6

QPSK

-106

23

8PSK

-101

34

16QAM

-98

45

32QAM

-94

57
DATA CAPABILITIES
Packet handling
Layer 2 bridge Layer 3 static routes VLAN support
Error Correction
Up to 32-bit CRC, Retransmit on error
Data Encryption
128/256-bit AES
I/O and Serial Data Access
Optional I/O allows seamless integration of Modbus RTU and Modbus TCP protocols
Pricing Notes:
Pricing and product availability subject to change without notice.
Cambium Networks Products
cnReach N500 Radios
N500 450 MHz Single
#NB-N500410B
Our Price: $1,495.00
N500 450 MHz Single with IO
#NB-N500411B
Our Price: $1,595.00
N500 450 MHz Dual
#NB-N500420B
Our Price: $2,095.00
N500 450 MHz Dual with IO
#NB-N500421B
Our Price: $2,195.00
N500 Antennas
N500 450 MHz Whip Antenna
#NB-N500010A
Our Price: $80.00
N500 Accessories
N500 Power Connector, Spare
#NB-N500002A
Our Price: $3.00
N500 IO Connector, Spare
#NB-N500003A
Our Price: $15.00
N500 DIN Rail Mount
#NB-N500004A
Our Price: $9.00
N500 RJ45-DB9 Adaptor
#NB-N500005A
Our Price: $12.00
N500 AC Power Supply 24 VDC with US line cord
#NB-N500006B
Our Price: $80.00
N500 IO Expanders
N500 IO Expander
#NB-N500001A
Our Price: $645.00
N500 IO Expander
#NB-N500001B
Our Price: $645.00