XE3-4TN Wi-Fi 6/6E Outdoor Access Point

Enterprise grade software-defined access point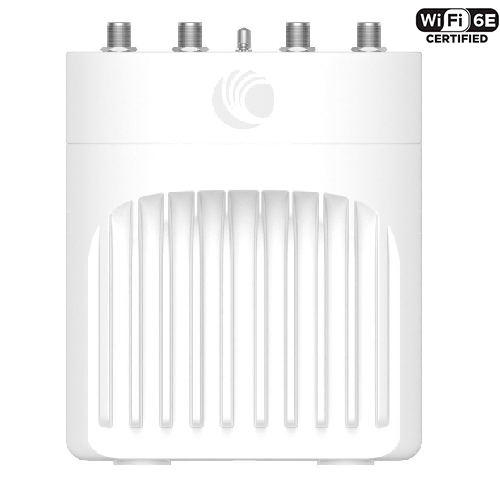 Cambium Networks Products
XE3-4TN Wi-Fi 6/6E Outdoor Access Point
XE3-4T Outdoor Tri-band WiFi 6e AP with SDR 4x4
#XE3-4TN0A00-US
Our Price: $1,795.00
Click here to jump to more pricing!
Overview:
XE3-4TN Wi-Fi 6/6E Outdoor Access Point At a Glance
The XE3-4TN is an outdoor Wi-Fi 6/6E Tri-Radio 4×4 Access Point with N-type antenna connectors. Cambium Networks high performance outdoor Wi-Fi 6/6E access point is 6GHz-ready and designed for a broad range of use cases in harsh environments.
802.11ax Tri-Radio 4x4/2x2 Access Point with N-type antenna connectors
Tri-radio Wi-Fi 6E
2.5 and 1 GbE uplinks
Outdoor rated IP67 enclosure
Managed by cnMaestro, XMS-Cloud or Swift
The XE3-4TN comes with industry leading three-year hardware warranty providing return and repair service on the access point and multiple tiers of customer support from the business day to extended hours and advanced replacement.
Outdoor high-density, future proof Wi-Fi
The XE3-4TN is an outdoor rated tri-radio Wi-Fi 6/6E 4x4/2x2 access point (AP) designed to deliver future-proof performance and value for building next generation networks. Wi-Fi 6 delivers faster and more efficient wireless network connections than previous generation Wi-Fi technologies. Wi-Fi 6E extends the capacity of Wi-Fi into the 6 GHz band, more than tripling the wireless spectrum available.
Software-defined radio provides flexibility
The software-defined radio (SDR) provides flexibility to match the capability of the connected clients and to match the regulatory limits in the 6 GHz band. Where 6 GHz outdoor is not allowed, operate the XE3-4TN in dual 5 GHz mode to expand capacity in the allowed 5 GHz channels. Where 6 GHz outdoor is allowed, and Wi-Fi clients support it, use tri-radio mode to dramatically increase density in a reduced RF interference environment.
Views: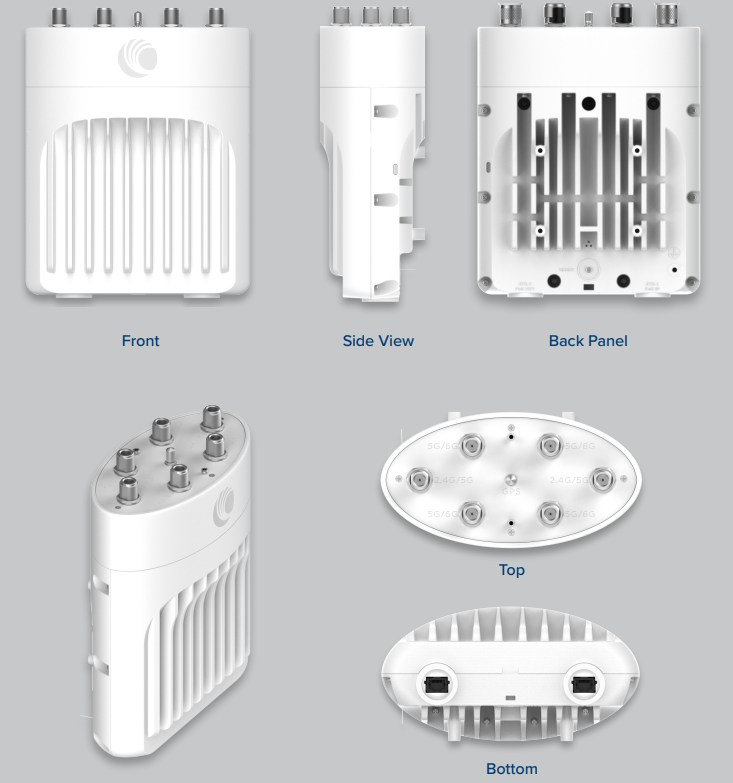 Specifications:
ACCESS POINT SPECIFICATIONS
Radios
5 GHz /6 GHz 802.11a/n/ac/ax, 4x4 SW configurable
5 GHz 802.11 a/n/ac Wave 2/ax, 2x2
2.4 GHz 802.11 b/g/n/ax, 2x2
BLE 4.1, GPS receiver
Wi-Fi
802.11 a/b/g/n/ac Wave 2/ax
SSID Security
WPA3, WPA2 (CCMP, AES, 802.11i), WPA2 Enterprise (802.1x/EAP), WPA PSK (TKIP), WEP, Open
Max PHY Rate
5/6 GHz radio 4,804 Mbps
5 GHz radio 1,201 Mbps
2.4 GHz radio 573.5Mbps
Ports
1 x IEEE 100/1000/2500 Mbps Ethernet
1 x IEEE 10/100/1000 Mbps Ethernet with PoE out
Max EIRP
5/6 GHz 36 dBm/TBD
5 GHz 36 dBm
2.4 GHz 36 dBm
| | |
| --- | --- |
| Power | Typical power 25W (802.3at) Maximum power 62W with PoE out enabled and sourcing 30W |
| Dimensions | 220mm x 200mm x 86mm (8.66 in x 7.87 in x 3.39 in) |
| Weight | 2,920 g (6.44 lbs) |
| Security | Kensington lock slot |
| LEDs | Multi-color status LEDs |
| Ambient Operating Temperature | -40ºC to 65ºC (-40ºF to 149ºF) |
| Storage Temperature | -40ºC to 70ºC (-40ºF to 158ºF) |
| Humidity | 95% RH non-condensing |
| Certifications | WiFi Alliance 80211a/b/g/n/ac/ax, PP2.0 FCC, ETSI, CE, IC, IEC60950, IEC62368, EN61373, EN50121, EN 303 413 (GPS), IEC 60068-2-5 (solar radiation), IEC 60529 (Ingress Protection), TAA |
Network Specifications
Operational Modes
Standalone
Cloud managed cnMaestro or VM
Cloud managed XMS
WLAN
1500 clients, 16 SSIDs WPA-TKIP, WPA2 AES, 802.1x 802.11w PMF
Authentication Encryption
Hotspot 2.0, 802.1x EAP-SIM/AKA, EAP-PEAP, EAP-TTLS, EAP-TLS, MAC authentication local database or RADIUS
Scheduled WLAN
On/off by day, week, time of day
Guest Access
EasyPass guest self-registration, guest Ambassador, ePSK, Vouchers, Rate Limit, Splash page hosted on AP or cnMaestro Client isolation per SSID, per network
Data Limit
Client limit per SSID
Subscriber QoS
WMM
VLAN
802.11Q, max 4096
Fast Roaming
802.11r, OKC, Enhanced roaming
Mesh
Multi-hop, either band
Channel Selection
Multi-modal channel selection with AutoChannel, Autotune (cnMaestro)
| | |
| --- | --- |
| RF Management | Multi-Modal RF optimization supporting AutoCell (XMS) and AutoRF (cnMaestro) performed in the intelligent edge AP. Out of band RF spectrum analysis, radio self test network assurance (XMS), RF monitor with chn/noise/interference |
| Network | TCP connection log, NAT logging firewall, DHCP server, L2, L3 or DNS based access control, VLAN Pooling, RADIUS attribute VID, VLAN per SSID per user |
| Band Steer Load Balance | Yes |
| Tunnel | L2TP, L2oGRE, PPPoE |
| Network and RF Management Tools | Wired and wireles remote packet capture, auto logging, ZapD performance tool, rogue AP detection |
| Services | WIDs/WIPs, NTP, Syslog, SNMP traps, DNS proxy, auto-off on WAN failure, Layer 2 – layer 7 application visibility & control, |
| API | RESTful management and statistics API Presence location APIs |
Wi-Fi Protocols
802.11a/b/g/n/ac wave 2, 802.11ax, up to 4x4. 20/40/80/160 MHz, MU-OFDMA, MU-MIMO, TWT, MIMO, VHT MCS rates, 16/64/256/1024/4096-QAM, HT20/40/80/160 MHz

---

Transmit Beam steering, Airtime Fairness, AMSDU, AMPDU, RIFS, STBC, LDPC, MIMO Power Save, MRC, BPSK, QPSK, CCK, DSSS, OFDM

---

IEEE 802.11d/e/h/i/k/r/u/v/w
Pricing Notes:
Pricing and product availability subject to change without notice.
Cambium Networks Products
XE3-4TN Wi-Fi 6/6E Outdoor Access Point
XE3-4T Outdoor Tri-band WiFi 6e AP with SDR 4x4
#XE3-4TN0A00-US
Our Price: $1,795.00