Cambium Networks cnMatrix EX2028

Improve network performance while reducing the time and cost of provisioning and management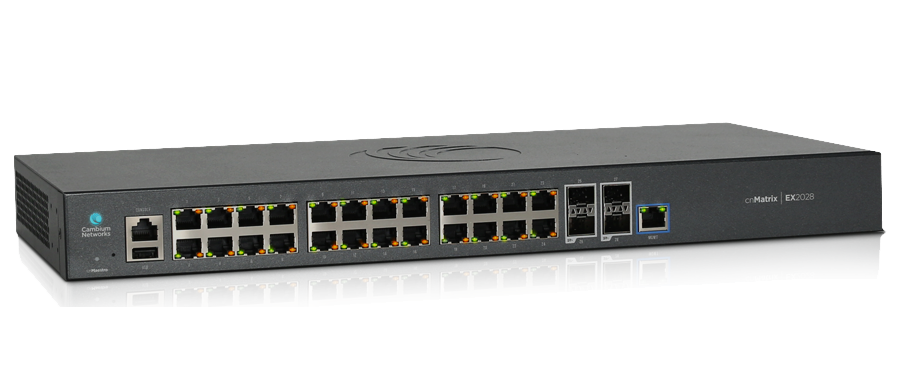 Cambium Networks Products
cnMatrix EX2028
cnMatrix EX2028 24 1G and 4 SFP+ - USA Cord
#MX-EX2028xxA-U
Our Price: $1,024.60
Click here to jump to more pricing!
Overview:
IT teams, MSPs and ISPs need to rapidly provide an optimal network experience for users and devices. Network operators are seeking simplicity, flexibility and automation to improve performance. Cloud Networking solutions with cnPilot™ Wi-Fi, cnMatrix™ switching, and cnMaestro™ cloud management from Cambium Networks deliver an optimal client experience while maintaining robust security and reducing cost.
A proven leader in providing global communications solutions, Cambium Networks simplifies network operations. Our Cloud Managed Intelligent Edge Enterprise Access Solution makes the network resilient, easy to operate, high performance, and agile; providing cost effective wired/wireless connectivity for network operators. The entire purpose-built end-to-end network is managed from a "bird's eye view" by the free cnMaestro management system.
Cambium Networks' next generation switching platform offers a cloud managed, high performance, feature rich enterprise grade ethernet switching solution. The cnMatrix™ platform of switches provides:
Easy and simple free cloud management with cnMaestro
Zero touch deployment of switches makes deployment easy
Zero touch policy based configuration enables automation, reduces errors and network downtime
Device profiling, automatic port configuration and network segmentation improves security posture of the network
Wireless Aware: Together with Cambium Networks cnPilot Wi-Fi solution, enables a simple, easy-to-use cloud managed Unified Wired-Wireless access solution
Affordable, high quality and enterprise grade Layer 2, Layer 3 feature set
The cnMatrix series of fully managed switches delivers full Layer2 and Layer 3 capabilities with enhanced access security. cnMatrix switches deliver power savings with several models offering fanless operation. The cnMatrix switch series offers flexibility with 4 – 10 Gbps (SFP+) uplinks on the 28 port models while offering 2 - 1Gbps (SFP) uplink ports on the 10 port models.
Benefits:
Save time, and reduce costs with a true Zero Touch initial deployment
Reduce network misconfiguration mistakes by eliminating error prone manual configuration
Dramatically enhance security with automatic segmentation of devices
Reduce troubleshooting time with central management and common policies across the network
Site survivable operation during cloud failures when connectivity is lost
Reduce total cost with affordable cnMatrix switches managed by the cnMaestro FREE controller
cnMatrix EX2028 Specifications
Features
Throughput
128 Gbps
Non-Blocking
PoE enabled ports
n/a
PoE power budget units (watts)
n/a
10/100/1000 ports
24
Uplink ports
4 SFP+
Serial console
USB
OOB ports
Rack mount kit
Internal fans
Fanless
Maximum routes (Static)
64
Dynamic routing
512
LACP/trunking
8 LAGs/8 links per 9216
QoS priority queues
8
Maximum IGMP multicast groups
256
Max PVRST
32
Cambium Auto Edge
Yes
MTBF (hours)
432,283.26
Power budget
n/a
Power supply
AC/Internal
Weight
2.77 kg (6.1 lb)
Dimensions
44 x 4.4 x 20.9 cm
(17.3 x 1.75 x 8.22 in)
LEDs per port
Link/activity
Rack mountable
Yes 1U
Temperature ranges
-0°C to +50°C (+32°F to +122°F)
Operating humidity
+55° at 95% RH
Storage temperature
-40°C to +70°C (-40°F to +158°F)
cnMatrix All Models
Quality of Service
ACL mapping and marking of ToS/DSCP (COS)
ACL mapping to priority queue
Honoring DSCP and 802.1p(CoS)
Priority queue management using Weighted Round Robin (WRR), Strict Priority (SP) and a combination of WRR and SP
ACL mapping marking of 802.1p
DiffServ support
Traffic shaping/metering
Traffic Management
ACL-based inbound rate limiting policies
Inbound rate limiting per port
Broadcast, multicast and unknown unicast rate limiting
Outbound rate limiting per port/queue
Security
802.1x authentication
DHCP snooping
Neighbor Discovery (ND) inspection
Radius/Tacacs/Tacacs+
Secure shell
MAC authentication
RADIUS authentication/authorization
Authentication, Authorization, and Accounting (AAA)
Secure copy (SCP)
Local username/password
Management
cnMaestro (cloud management)
DHCP autoconfiguration
Embedded DHCP server
Industry standard Command Line Interface (CLI)
Embedded web management (HTTP/HTTPS)
Out of band Ethernet management client/server
SSH /SSH v2
SNMP v1v2
System Network Time Protocol (SNTP)
Auto Edge / Auto Attach
Display log messages multiple terminals
Telnet client/server
Layer 2 Feature Set
802.1s multiple spanning tree
VLAN, Port, Protocol, 802.1q
Auto MDI/MDIX
IGMP Snooping V1v2
Per VLAN STP (PVST/PVRST)
IGMP Proxy
Flow Control per port/per queue
Broadcast/Multicast/Unlearned Unicast (Storm Control)
Ping/TraceRoute/ICMPv6
Bpdu guard, Root Gard
LLDP/LLDP Med
Port Mirroring: port based, ACL based, VLAN based
Link Aggregation Groups (Static/LACP)
Jumbo frame support
BPDU filtering
DoS Protection (Port, CPU)
Pricing Notes:
Pricing and product availability subject to change without notice.
Cambium Networks Products
cnMatrix EX2028
cnMatrix EX2028 24 1G and 4 SFP+ - USA Cord
#MX-EX2028xxA-U
Our Price: $1,024.60