Cambium Networks cnPilot R200

Cloud Manged 802.11n Single Band Router with ATA for voice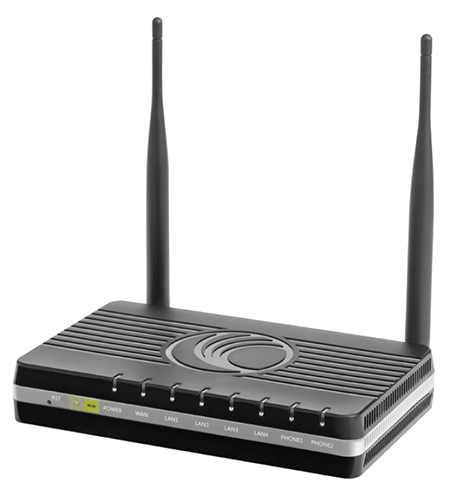 Sorry, this product is no longer available, please contact us for a replacement.
Click here to jump to more pricing!
Overview:
cnPilot Home & Small Business is a suite of 802.11ac and 802.11n home Wi-Fi network access points supported by cnMaestro to provide end-to-end lifecycle administration, remote configuration, monitoring, and upgrades. With cnPilot Wi-Fi access points and cnMaestro management, customer satisfaction increases while network administration and maintenance costs decrease.
Simplifying in-home Wi-Fi
Cloud-controlled cnPilot routers simplify ISP roll out of indoor home Wi-Fi. The router incorporates 3 additional functions in one package: Wi-Fi, an ATA to connect telephone and fax, and PoE out for powering up Cambium's CPEs (subscriber modules).
Remote secure management via cnMaestro controller features monitoring, configuration management, and integrated troubleshooting across Wi-Fi, client devices and Cambium backhaul (when present), reducing the total cost of network ownership (TCO).
Simplyfing the network
Extending the service provider's indoor reach and streamlining components for a simplified indoor network. Versatile multi-function WLAN access points, offering remote visibility and end-to-end troubleshooting, extend the service provider's indoor reach.
See the Cambium Wi-Fi Difference
Cloud or On-Premises management
Flexible architecture lets you manage the network the way you want.
Remote Configuration
Modules can be remotely configured, monitored, and upgraded.
Features:
Cloud Management
Backed by Cambium's cnMaestro cloud manager offering end-to-end visibility of the network and customer devices.
Out-of-the box zero touch onboarding
Stateful alarms and dashboard views
Multiple management options available including cloud-based, TR-069, SNMP and an enriched set of RESTful interfaces
Highly Integrated
The WLAN routers simplify the indoor home network-combing in one box commonly needed functions often put together from different manufacturers.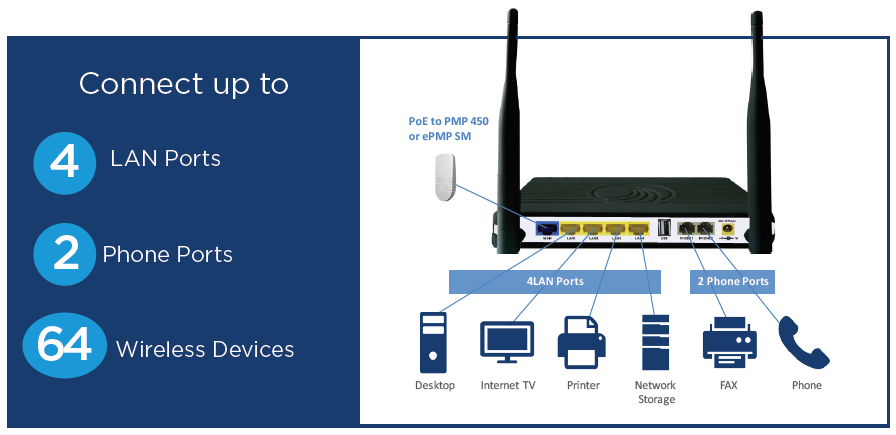 End-to-End Troubleshooting
Single dashboard view and rich statistics ensure rapid root cause detection and issue resolution.
One-click functionality reveals the health of all network nodes related to the problem area
Troubleshoot end user client connectivity on any WLAN from a single console
No truck roll required to debug wired or wireless connectivity configurations
Multiple SSIDs and Service Provider (community) SSID's
Enables service providers to offer SSIDs across their network as users travel from home, to outdoor public hotspot and to local business / small enterprise or campus. This allows network operators to promote their brand throughout their customers' daily journeys.
Adaptive Wi-Fi Architecture:
A variety of access architectures have evolved over two decades of increasing Wi-Fi use within organizations. Some have been driven by product limitations; others have been created to meet security or regulatory requirements.
Among the many questions that arise during network design, administrators need to address the following:
Management – Will the operation benefit more from a cloud-based or on-premises management system?
Traffic separation – Are the organization's requirements best served by local breakout of Wi-Fi traffic, or the extra separation of traffic made possible by tunneling user data to a controller?
Many vendors' solutions lock administrators in to a particular deployment model or network traffic distribution system, but Cambium Networks believes that Wi-Fi network design should conform to the organization's needs, not the other way around.
Cambium Networks cnPilot's Adaptive Wi-Fi architecture enables Wi-Fi integration with existing wired network infrastructure and the cnMaestro™ management system provides scalable, flexible management in addition to Wi-Fi controller features.
The Key Architectural Choices Are:
Where does your user data traffic go? The Wi-Fi AP can bridge it onto Ethernet (also known as local break out). Another option is to tunnel it over an IP-based protocol to a tunnel terminator, which can be a wireless controller or a different third party concentrator.
Where does your Wi-Fi controller and management system run? Some organizations prefer the convenience of a vendor operated cloud-based management system. Others prefer in-house operation – usually with controllers that can manage tens of thousands of access points. For very small deployments, it can make most sense to configure an AP to perform the duties of a controller.
Regardless of your requirements, cnPilot and cnMaestro offer customizable options for a complete Wi-Fi solution that meets your needs.
cnMaestro Cloud

Zero-touch deployment and Cloud-based management lets you easily deploy and control even large networks without requiring an IT team. Cambium operates cnMaestro™ in the cloud, scaling easily to thousands of devices – at no cost to you. The Cambium cloud is a highly redundant system with servers across the globe to ensure high uptime, with a secure HTTPS channel dedicated to communication between Wi-Fi APs and the cloud. cnMaestro™ advanced controller features include scalable guest access and remote login, allowing you to access your management console from anywhere in the world without having to VPN into your organization's internal network.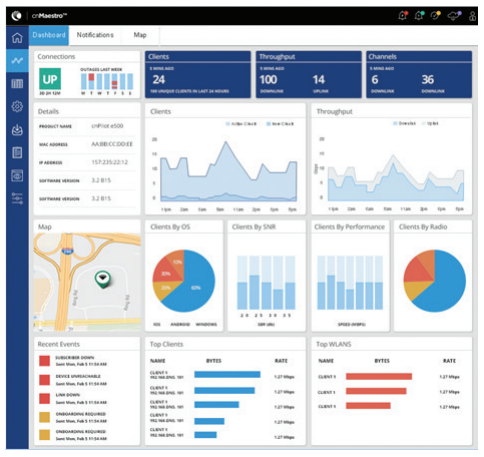 cnMaestro Dashboard
cnMaestro On-Premises

Organizations may choose on-premises management for a variety of reasons. Regulatory or security requirements, or simply preference for in-house management solutions may limit cloud-based control capability. cnMaestro on-premises management is perfect for such organizations, providing the same set of features as cnMaestro cloud management in a virtual appliance package.
cnMaestro on-premises can also terminate data traffic tunneled from cnPilot APs over a tunnel and bridge it out over an isolated VLAN. This is useful if, for instance, you never want to bridge guest traffic at the edge of your internal network.
cnPilot Autopilot

For very small deployments that will not use cloud-based management, cnMaestro on-premises may be impractical for just a few APs. In that case, cnPilot Autopilot lets you designate and configure a master AP to perform double duty as a wireless controller for up to 32 other APs in addition to providing normal Wi-Fi service. All monitoring and configuration can be done from the master AP's UI.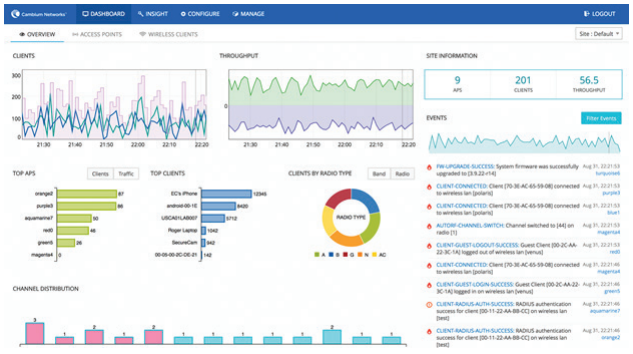 Autopilot
cnPilot and cnMaestro solutions from Cambium Networks make it easy for network administrators to design reliable, efficient connectivity solutions that scale and migrate easily to other architectures according to demand.
Specifications:
R200
R200P
R201
R201P
R201W
WLAN routers to suit functions and budgets
WLAN Routers
802.11n
Single band 2.4 GHz
802.11n
Single band 2.4 GHz
802.11ac
Dual band 2.4 and 5 GHz
802.11ac
Dual band 2.4 and 5 GHz
802.11ac
Dual band 2.4 and 5 GHz
ATA - for Voice
Cambium PoE out
Telephone Interfaces
2 FXS ports, RJ11
WAN
1 x 10/100 RJ45
1 x GigE, RJ45
LAN
4 x 10/100BaseT, RJ45
4 x GigE, RJ45
USB
1 USB 2.0 Host Port for shared printer or storage
1 USB 2.0 Host Port for shared printer or storage
WiFi
2x2 Single band 11n 2.4 GHz
2x2 Dual band 11ac 2.4 (11n) and 5 GHz (11ac)
SSIDs
4 Per Radio
4
4
8
8
8
PoE Output
Powering Cambium's PM 450 and ePMP Subscriber Module
Reset Button
Factory reset button
LED Indicators
Power
WLAN
LAN 1-4
Phone 1-2
n/a
Network
R200
R200P
R201
R201P
R201W
Protocol

DHCP/ PPPoE/ Static IP
PPTP/L2TP VPN
Dynamic DNS/DNS SRV (RFC 1706 and RFC 2782)
DMZ
NAT Traversal (Static NAT Route or by STUN)
DHCP Client and DHCP server
MAC address Clone
IP Conflict Detection

Route Mode

Route/Bridge, customer configurable
Support IEEE 802.1Q VLAN/802.1p
Layer 3 (DSCP) settings for SIP, RTP and Data

Quality of Service

Support IEEE 802.1Q VLAN/802.1p
Layer 3 (DSCP) settings for SIP, RTP and Data

Wireless Interfaces
Protocol
802.11 b/g/n
802.11 b/g/n
802.11 b/g/n/ac
802.11 b/g/n/ac
802.11 b/g/n/ac
Security
WEP, WPA-PSK (TKIP), WPA-PSK (AES), WPA2- PSK (TKIP), WPA2-PSK (AES), Mixed mode
Others
AP isolation, MBSSID AP isolation, WMM, MAC Filter, WDS, WPS
IP Signaling
R200
R200P
R201
R201P
R201W
SIP V2 (RFC3261/3262/ 3263/3264)
Voice Codec
G.711 (A-law, µ-law), G.722, G.723, G.729
Fax Over IP
Real Time FAX over IP via T.38
T.30 Fax with G.711
Voice Features
Adaptive jitter buffer management
Voice Activity Detection
Comfort Noise Generation
Echo Cancellation
Call Features
3-way Conference
Call hold, Call forwarding, Call transfer, Call waiting,
Speed dial, Hotline, Dial plan
Caller ID, Black list, Call log
Network Management
R200
R200P
R201
R201P
R201W
Integrated Management
cnMaestro Cloud Based Management for Configuration, Provisioning and daily Monitoring
Configuration
Web GUI interface
Interactive Voice Response (IVR)
Auto Provisioning
TFTP, HTTP
SNMP
SNMP v2
Time
SNTP
Admin
Administrator and User
Alt Mgmt
TR069
SYSLOG
Local, Remote
Power Supply
R200
R200P
R201
R201P
R201W
AC/DC Adpator
AC Input: 100 ~240V, 50-60 Hz
DC Output: 12V, 2A
AC Input: 100 ~240V, 50-60 Hz
DC Output: 12V, 2A
AC Input: 100 ~240V, 50-60 Hz
DC Output: 12V, 3A
Environmental
Operation Temperature
+5°C to +45°C
5°C to +45°C
Storage Temperature
-25°C to +85°C
Relative Humidity
10%~90% No Condensing
Weight
0.75 kg
0.8 kg
Dimension (HxWxD)
180 mm x 110 mm x 30 mm
175 mm x 155 mm x 35 mm
Regulatory
EMC
FCC part 15B Class B, ETSI EN 301 489-1, ETSI EN 301 489-17, EN61000-6-1, EN61000-6-3, CE, RoHS
Safety
IEC 60950-1, UL 60950-1, EN 60950-1
Pricing Notes:
Pricing and product availability subject to change without notice.
Cambium Networks Products
cnPilot Extended Warranty
cnPilot R2XX Extended Warranty, 1 Additional Year
#EW-E1PLR2XX-WW
Our Price: $2.25
cnPilot R2XX Extended Warranty, 2 Additional Years
#EW-E2PLR2XX-WW
Our Price: $3.75
cnPilot R2XX Extended Warranty, 3 Additional Years
#EW-E3PLR2XX-WW
Our Price: $5.00
cnPilot R2XX Extended Warranty, 4 Additional Years
#EW-E4PLR2XX-WW
Our Price: $5.75
cnPilot R2XX Limited Lifetime Warranty
#EW-LLPLR2XX-WW
Our Price: $7.00