Cambium Networks ePMP 1000 Connectorized Radio

Connectorized Radio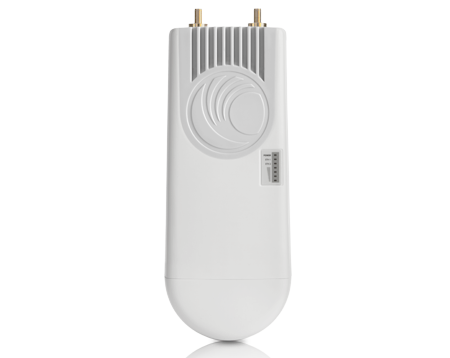 Cambium Networks Products
ePMP 1000 Connectorized Radio
ePMP 1000 2.4GHz Conn Radio FCC
#C024900A021A
Our Price: $121.90
Click here to jump to more pricing!
Overview:
Wireless service providers and enterprises need reliable, high-quality broadband connectivity that can be rapidly deployed and expanded. The ePMP architecture provides highly scalable broadband access solution that will allow you to build and expand your network with a faster return on investment. Cambium Networks' radios deliver bandwidth-intensive services such as VoIP, video and data to end users in multiple vertical markets, with high performance and exceptional reliability.
Using the 5 GHz frequency spectrum, the new ePMP architecture is the most effective connectivity solution for reaching the under- and unconnected around the world.
Main Differentiators:
Growth and Scalability offer wireless service providers the opportunity to expand the reach of their networks into underserved areas. The ePMP 1000 delivers high capacity and reliable connectivity right from the start. As a provider's business grows, it can expand its network while ensuring resiliency and increasing profitability.
Quality of Service (QOS) allows you to confidently offer triple play services – VoIP (Voice over IP), video and data. Providing your customers with excellent service quality ensures their continued loyalty and transforms them into advocates, helping WISPs and enterprises expand their business.
Proven Reliability has created an unsurpassed connectivity standard in many industries that depend on fixed wireless broadband. Our products undergo rigorous testing and are made from high-quality components.
Features:
Cambium Networks' ePMP 1000 Connectorized Radio provides more than 150 Mbps of real user throughput. Using 2x2 MIMO-OFDM technologies, ePMP deployments achieve industry leading data rates.
The ePMP 1000 Connectorized Radio has the flexibility to connect to a variety of external antennas such as 90 and 120 degree sector, omni and high-gain panel or dish antennas. This versatility allows service providers to configure their network using high gain antennas to satisfy the most challenging environments.
The ePMP 1000 Connectorized Radio can be configured as a Subscriber Module, an unsynchronized Access Point or a Backhaul radio. This radio will function as a client (slave) to an ePMP GPS Synchronized Radio in either a PMP or PTP deployment forming a GPS Synchronized solution.
Specifications:
ePMP 2000 Smart Antenna Specifications
Spectrum
Channel Spacing
Configurable on 5 MHz increments
Frequency Range
5 GHz: 4910 – 5970 MHz (exact frequencies as allowed by local regulations)
2.4 GHz: 2402 – 2472 MHz
Channel Width
5 | 10 | 20 | 40 MHz
Interface
MAC (Media Access Control) Layer
Cambium Proprietary
Physical Layer
2x2 MIMO/OFDM
Ethernet Interface
100 BaseT, Cambium PoE (V+ = pins 7 & 8, Return = pins 4 & 5)
Protocols Used
IPv4/IPv6 (Dual Stack), UDP, TCP, ICMP, SNMPv2c, NTP, STP, IGMP, SSH
Network Management
IPv4/IPv6, HTTPs, SNMPv2c, SSH, Cambium Networks CnMaestro™
VLAN
802.1Q with 802.1p priority
Performance
ARQ
Yes
Nominal Receive sSnsitivity (w/FEC) @ 20MHz Channel
MCS0 = -93 dBm to MCS15 = -69 dBm (per branch)
Nominal Receive Sensitivity (w/FEC) @ 40MHz Channel
MCS0 = -90 dBm to MCS15 = -66 dBm (per branch)
Modulation Levels (Adaptive)
MCS0 (BPSK) to MCS15 (64QAM 5/6)
Quality of Service
Three level priority (Voice, High, Low) with packet classification by DSCP, COS, VLAN ID, IP & MAC Addr, Broadcast, Multicast and Station Priority
Link Budget
Transmit Power Range
-17 to +30 dBm (combined, to regional EIRP limit) (1 dB interval)
Physical
Antenna Connection
50 ohm, RP (Reverse Polarity) SMA (2)
Surge Suppression
1 Joule Integrated
Environmental
IP55
Temperature
-30°C to +60°C (-22°F to +140°F)
Weight
0.49 kg (1.1 lb.)
Wind Survival
145 km/hour (90 mi/hour) when mounted on ePMP Sector Antennas
Dimensions (H x W x D)
29.1 x 14.5 x 8.3 cm (11.4 x 5.7 x 3.3 in)
Power Consumption (over 100m CAT5 cable)
7 W Maximum, 5 W Typical
Input Voltage
10 to 30 V
Security
Encryption
128-bit AES (CCMP mode)
Certifications
FCCID
2.4 GHz: Z8H89FT0011 / 5 GHz : Z8H89FT0006
Industry Canada Cert
2.4 GHz: 109W-0011 / 5 GHz : 109W-0006
CE
5.4 GHz: EN 301 893 V2.1.1
5.8 GHz: EN 302 502 V2.1.1
Pricing Notes:
Pricing and product availability subject to change without notice.
Cambium Networks Products
ePMP 1000 Connectorized Radio
ePMP 1000 2.4GHz Conn Radio FCC
#C024900A021A
Our Price: $121.90